Apollo 55000-005APO XP95 Series, isoleringssignalgiver til udendørs brug, 100 dB A, indendørs brug, EN 54-3-kompatibel, rødt blink og rødt hus
Brand:
Apollo Fire
ADI #:55000-005APO
Model #: 55000-005APO
Name: Apollo 55000-005APO XP95 Series Isolating Open-Area Sounder Beacon 100dB A, Indoor Use, EN54-3 Compliant, Red Flash and Red Body
For use with XP95 & Discovery systems
Self-test fault monitoring IP65 rated
Individual and group addressing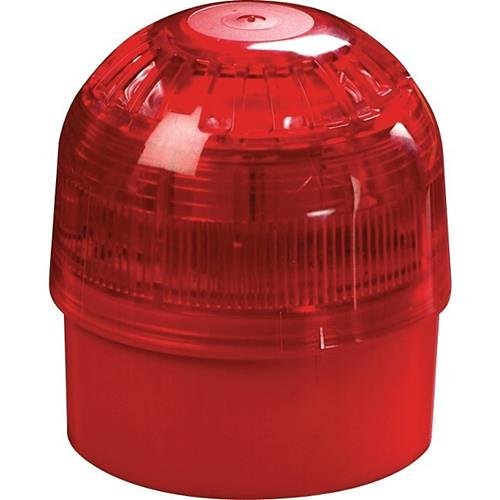 Product Overview
General Information
Electrical Considerations
All devices are powered directly from the loop and need no external power supply. They operate at 17-28V DC and are polarity sensitive.
Operating Principles
A nominal sound output of 100dB(A) is achieved at a current consumption of 5mA in the case of the sounder and 8mA for the sounder beacon. Many control panels will be able to drive up to 20 sounders and up to 15 sounder beacons per loop on average. The maximum number of devices that may be connected to a particular loop should, however, be determined by a loop loading calculation using the Apollo Loop Calculator. This is available via the Apollo website www.apollo-fire.co.uk. Since the alarm devices are intended for use in open areas, it is possible for more than one device to be audible at any given point in a building. For this reason, the operation of all may be synchronised by the control panel. All the alarm devices can be assigned group addresses as well as individual addresses, so that the functional options of the sounder are identical with those of the Sounder Control Unit part no 55000-182.
Mechanical Construction
The alarm devices have a base which is fitted to the mounting surface and wired as a 'first fix'.
Device Addressing
The open-area alarm devices respond to their own individual address set with a DIL switch. They can also respond to a 'Group Address' which allows multiple sounders to be controlled simultaneously. A group address may be any spare address between 112 and 126 and is selected by means of a 4 segment DIL switch. A device under group address control must have an individual address between 1 and 111 otherwise a fault value of 4 is transmitted. Devices not using the group address facility may be addressed at any address (1-126).
Backward Compatibility
The alarm devices will operate only with control equipment using the Apollo XP95 or Discovery protocol. The features of the Open-area alarm devices are available only when the device is connected to a control panel with the appropriate software.
Product Information
The Intelligent Open-Area Sounder Visual Indicator is designed for use in open areas and can be connected to an Apollo Discovery or XP95 system.
Main Features
For use with XP95 & Discovery systems
Self-test fault monitoring IP65 rated
Individual and group addressing
Synchronisation of flashes
Comes with Isolating Base as standard Loop-powered
Red and clear lens option
Category : Fire, Fire Notification Appliances, Produkter, Sounder Strobes
Specifications
Generel information
Produktnavn
Intelligent Open-Area Sounder Visual Indicator (Red)
Tekniske oplysninger
Fysiske egenskaber
Kamera
Miljøforhold
Produktinformation
Strømbeskrivelse
TBD
Diverse
Kompatibilitet
Apollo XP95 Fire Detectors