Apollo 45681-394MAR Discovery-serie, Base til Søsignalgiver, EN54-3-kompatibel, Rødt Blink og Hvidt Hus
Brand:
Apollo Fire
ADI #:45681-508APO
Model #: 45681-508APO
Name: Apollo 45681-508APO Series 65 One-Way Fit Detector Mounting Base with Relay 12V, White
Detector locking mechanism
One-way fit
Contains an earth connector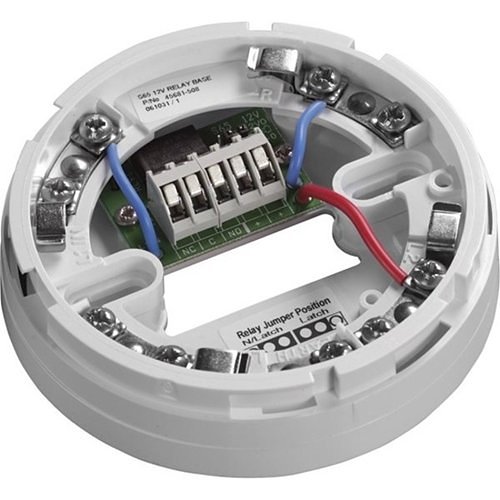 Product Overview
General Information
Brand Information
Series 65 incorporates well-proven sensing technologies, including an Integrated Circuit based on that used in XP95 analogue addressable detectors.
The Series 65 range has a wide operating voltage of 9-33V and consists of ionisation, integrating ionisation and optical smoke detectors, four grades of heat detector and a range of bases.

Brand Features
Wide-operating voltage of 9-33 V DC
Wide-operating and storage temperature of -20°C to +60°C
Can be used on security systems
Electrically and mechanically compatible with Series 60
Proven detection performance
Electrical Considerations
The 12V Relay Base is operated by the detector and must therefore be fitted with a Series 65 smoke or heat detector to function.
The base is designed to operate over a voltage range of 9V to 15V dc.
The negative line is connected to the L1 IN and L1 OUT on the moulding terminals. The positive line is connected to IN+ and OUT+ on the terminal block.
Note: Do not connect any external wire to the -R terminal as this may prevent the relay base from functioning correctly.
Operating Principles
Series 65 Relay Bases are primarily intended for use with control units using 4-wire detector supply and alarm initiating circuits. Where local codes allow, they may also be used in 2 and 4-wire circuits to provide volt-free control signals to an auxiliary system such as an automatic door closer.
They are not suitable for use in systems where it is specified or required that operation of the auxiliary system shall be fail-safe and must not be used with any other type of detector.

Mechanical Construction
The base is a white self-extinguishing polycarbonate moulding with zero-force nickel-plated steel terminals for attaching the detector.
The moulding has an aperture to accept the locking grub screw built into the detector case. All electronic components, including the relay, are mounted on a PCB which is retained by two screws in the moulding.

Product Information
The Series 65 12V Relay Base is designed for use in both fire and security systems. For fire systems a jumper on the PCB is fitted to a 'latching' position. For security systems the jumper is moved to another position so that the base is 'non-latching'.

Main Features
Detector locking mechanism
One-way fit
Contains an earth connector
Can be used in fire and security systems
Category : Detector Bases, Fire, Fire Detection Devices, Produkter
Specifications
Fysiske egenskaber