WD WD84PURZ Purple Series, 8TB 3.5" Hard Drive, SATA 6GB, 128MB Cache, Supports up to 64 HD Cameras
Brand:
Western Digital
ADI #:WD84PURZ
Model #: WD84PURZ
Name: WD WD84PURZ Purple Series, 8TB 3.5" Hard Drive, SATA 6GB, 128MB Cache, Supports up to 64 HD Cameras
Makes frequent file access and retrieval easy and convenient
Experience rapid processing speed with 128 MB cache buffer
Have data stored faster with SATA/600 interface that optimizes burst performance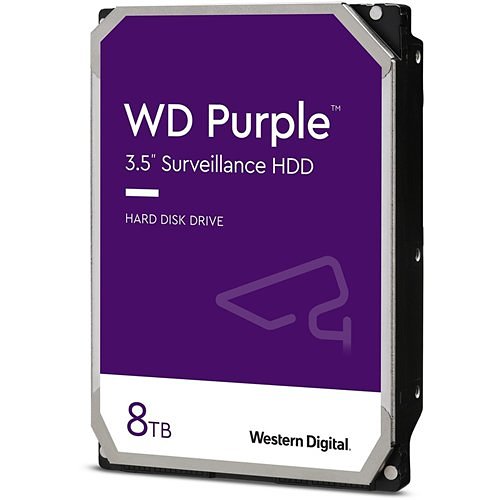 Product Overview
General Information
The DH-S5500-48GT4XF-E switch is a layer 2+ access switching solution that is simple, cost-effective, and easy to deploy. It is designed to meet the requirements of SME access, enterprise desktop access, and high-density campus access. Here are some key features and capabilities of the DH-S5500-48GT4XF-E switch: Intelligent Resilient Framework 2 (IRF2): The switch implements IRF2, which offers high scalability, reliability, and availability. By adding switches to the IRF2 stack, device aggregation can be achieved, and the stack can be managed with a single IP address. IRF2 provides control and data link redundancy, ensuring high reliability. Abundant QoS (Quality of Service): The switch supports packet filtering and traffic classification at various layers (2 to 4) based on source and destination MAC addresses, IP addresses, TCP/UDP port numbers, protocol types, and VLANs. It also offers flexible queue scheduling algorithms like strict priority (SP), weighted round-robin (WRR), and SP+WRR. The switch enables committed access rate (CAR) control and supports port mirroring for network monitoring and troubleshooting. High Availability: The switch provides packet filtering, traffic classification, and flexible queue scheduling algorithms for optimized performance and reliability. It supports features like ARP protection to prevent ARP attacks and diverse ARP protection functions to validate ARP packets and mitigate ARP swarm attacks.
Main Features
Makes frequent file access and retrieval easy and convenient
Experience rapid processing speed with 128 MB cache buffer
Have data stored faster with SATA/600 interface that optimizes burst performance
Category : Hard Disk Drives, Produkter, Servers & Storage, Video Surveillance
Specifications
Generel information
Producent
Western Digital Corporation
Produktnavn
Purple 8TB Surveillance Hard Drive
Tekniske oplysninger
Optagelsesteknologi
Conventional Magnetic Recording (CMR)
Understøttet enhed
Video Surveillance System
Drevpræstation
Spindelhastighed (omdrejninger pr. Minut)
Fysiske egenskaber
Grænseflader/udvidelsesstik
Produktinformation